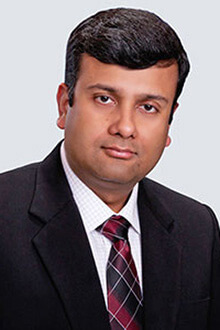 Amit Todani, MD is a Board Certified Ophthalmologist, offering the full spectrum of medical, surgical and laser eye care services. He has extensive international experience, having completed his medical education and initial residency training in ophthalmology at the Calcutta University affiliated hospitals in India.  He then served as a Senior House officer in Ophthalmology at the Arrowepark Hospital in Wirral, United Kingdom. He subsequently completed a Clinical/Research fellowship in Cornea & Refractive Surgery at the Massachusetts Eye & Ear Infirmary as well as a Medical internship and Ophthalmology residency at the Albany Medical Center.
His expertise includes the modern small incision cataract surgery including laser-assisted surgery with advanced technology lens implants to reduce dependency on eyeglasses, microinvasive glaucoma surgery, traditional and partial thickness corneal transplants, LASIK, Botox injections, as well as management of retinal conditions such as macular degeneration and diabetic retinopathy.
He is a regional pioneer in the field of microinvasive glaucoma surgery, being one of the first few surgeons in the New England area to perform the iStent inject implantation, the smallest FDA-approved glaucoma implant.
He has been recognized as "America's Top Ophthalmologists" several times by the Consumer Research Council of America, most recently in 2018 and 2019. As a testament to his expertise in translational research and innovation in the field of ophthalmology, Dr. Todani has authored several articles in peer-reviewed scientific journals as well as a book chapter and presented at various national and international ophthalmological conferences.
He has been honored with several academic awards including the Robert Reinecke Research Award in Albany and the Best Paper Award at the European Association for Vision and Eye Research in Slovenia. He also co-produced a video presentation with Dr. Samir Melki that was awarded the Grand Prize at the American Society of Cataract & Refractive Surgery Symposium of 2013.