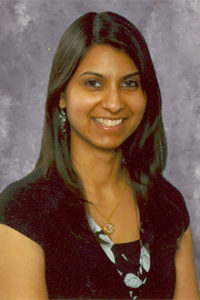 Reena Gupta, MD received her medical school education at Saint Louis University, School of Medicine in St. Louis, MO. She completed her residency training at Tulane University Medical Center in New Orleans, LA, where she also served as Chief Resident. Dr. Gupta completed her Cornea and Refractive Surgery fellowship at the Massachusetts Eye and Ear Infirmary in Boston, MA. Prior to her career in Ophthalmology, she was a graduate of Rutgers University with academic honors, where she received her Bachelor of Arts degree in Molecular Biology, Biochemistry, and Psychology.
Dr. Gupta specializes in cornea, refractive surgery and anterior segment surgery. Her surgical interests include full thickness and partial thickness corneal transplants (ie DMEK and DSEK), Boston keratoprosthesis I, laser vision correction (Lasik, PRK), superficial keratectomy/PTK, routine and complex cataract surgery, sutured intraocular lens, and pterygium surgery.
Her clinical interests include contact lens related keratitis, herpetic keratitis, corneal dystrophies, keratoconus, and dry eyes.
Dr. Gupta also practices comprehensive ophthalmology including non-surgical glaucoma, diabetes, macular degeneration and other routine ocular health conditions.
Areas of Expertise
Corneal Transplants
Corneal Cross-linking
Cataract Surgery
Sutured Intraocular Lenses
Refractive Surgery including LASIK and PRK
Phakic Intraocular Lenses including the Visian ICL
Ocular Surface Disease (Dry Eye)
Pterygia
Fuchs Endothelial Corneal Dystrophy
Keratoconus
Infectious Keratitis
Staff Privileges
Lawrence General Hospital
Beth Israel Deaconess
Professional Affiliations
Association for Research in Vision and Ophthalmology
American Society of Cataract and Refractive Surgery
The American Academy of Ophthalmology
American Medical Student Association